On my last pregnancy, I had a summer baby so I spent months trying to find flowy tops and skirts and anything that would wrap around the bump but not SWELTER me. This time round my baba is due early in the new year so I'll be spending the next few months freezing my massive maternity jocks off.
This has led me to realise I'll need a maternity coat.
Turning to trusty Google, I soon realised that stocks of maternity coats there ain't. Perhaps they don't sell well. Or maybe they find it hard to get the sizes right considering the various bumps they must cover. OR the fashion world just expects us to wrap ourselves in lagging jackets and be done with it.
So, to be helpful to you my pregnant lady friends and also because I'm shopping for myself, here are my pick of the best maternity winter coats out there at the minute. Snuggle.
1.ASOS Maternity Trapeze Waterfall Coat
How fabulous is this waterfall style grey coat from ASOS? It looks great open or closed and is long enough to ensure you're well wrapped up and warm. Definitely a contender on the LadyNicci list. Priced at €120.
I reckon this has just the right elegance and style to make a very happy pregnant mama. I love the detail on the sleeves, the round neck, and zip features and is keeping with the type of coats I usually purchase in the winter anyway. At €59.99 it's budget friendly too.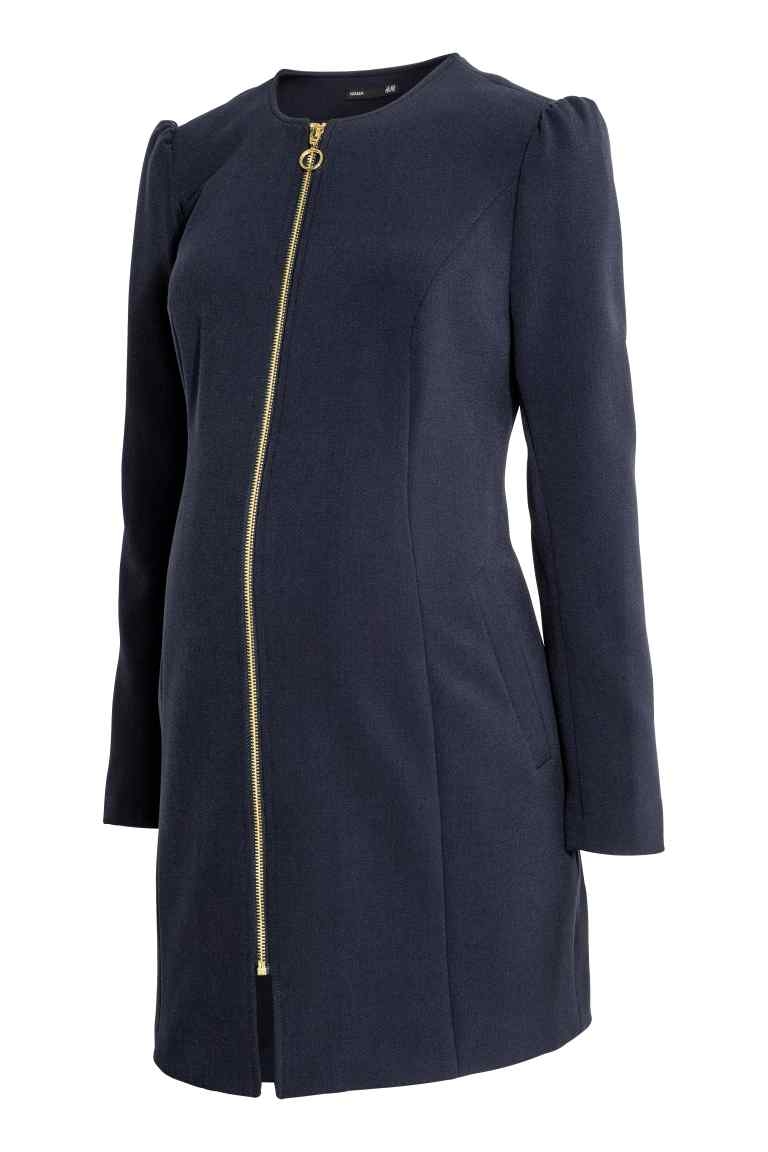 I wasn't sure how this worked because I thought, hey that looks like a pretty narrow coat, when I first saw the beautiful lanky model wearing it. Then I read the literature and realised that Next have a really clever coat on sale that allows you to zip in a panel for your maternity time and return back to skinny malinks thereafter. (Ha. Right). The coat itself costs £50 and the panel, only £8. Bargain. I like how they tell you to use the spare panel when you're done as a buggy blanky warmer; waste not, want not! I love this coat as it is, it's warm, practical and stylish. From the pics, with the panel in, it does look a bit lagging jacket-like, but that's because you're going go be massive by month nine and everything in this material is going to look like that. If it's good enough for your water tank…
I love the red pop of this jacket, which is long enough to serve as a coat. It also has a really nice zip feature at the back which allows you to adjust your ever expanding monster bump. As a brunette, I like to wear strong colours like this red jacket. Who says you need to be all covered up in black? Even it is slimming. It's too late for that baby! It's priced at €79.99.
Speaking of black (ahem) I love this Seraphine double zipped jacket. The cut is great and the shoulder panel details remind me of the coal man jacket my Daddy used to wear (and produce Care Bear Orange chocolate bars from his pockets, remember them?!) It's currently out of stock but I will definitely be re-clicking to see when it's back in as it's priced at £69 which is a bargain for Seraphine and it's a cashmere blend. Swit Swoo.
Lads I"m not going to lie. There is feck all out there. I had to search really hard just to get these five babies for you. Most of the usual maternity stores I visited online didn't even have ONE  maternity coat in stock. Instead they point you in the direction of cardis and more maternity jeans.
Now maybe I'm missing a trick not having had a winter pregnancy before. Maybe that little bambino inside you is a hot water bottle and you don't even NEED a coat.
But I'm not taking any chances.
And I'm diving right in. Lagging jacket here I come.
December Girl is now available on Audio. Visit Amazon or Audible or click on the cover below to download.