Gemma Jackson grew up in Dublin's tenements and set off at 17 to travel the world. She worked in a variety of book inspiring jobs but it would be two and a half decades before she finally got to see her work in print, a series inspired by the tenements you grew up in. 
How important has writing been in your life? When did you start?
Writing is my sanity saver. I can't not write – I love to step into the world of my imagination. I was fortunate to be taught by a forward thinking nun at Mount Sackville School in Castleknock. She didn't give us 'My Favorite Relative' or 'What I did in the Summer Holidays' as essays.
Instead she'd throw out a word like 'chair' and demand we write something imaginative about the subject. I didn't know that was creative writing I just knew I loved it. I've always written what I call reaction letters – emails nowadays. I've had my opinions and anecdotes published in magazines and read on RTE and BBC radio and television. I've been published in American magazines and been a guest on certain regional American radio and television programs.
You sent out manuscripts for 25 years before you finally got your break. You're one determined lady! Do you think writers need this validation? Would you ever have given up?
I approached getting published from a position of ignorance. I attended lectures given by  successful writers. I read cart loads of self help books. I tried to educate myself about the  industry. I sent out manuscript after manuscript. I received letters of encouragement from
publishers that I read as rejections. I remember sitting on the stairs clutching the long detailed letter I'd received from a publisher – crying my heart out at yet another failure. It wasn't until I joined a New Writer's Scheme and talked to published authors that I realised I'd been shooting myself in the foot for years. I can tell you I kicked my own patootie then – I felt so stupid. I know a lot of people are publishing their own work and more power to their elbow but I needed to know that – in my eyes – I was good enough to be published.
A niece of mine asked me – in the nicest way possible – when I was going to realise that I would never succeed at my dream. I thought long and hard about her question and gave up. I stopped writing completely. I nearly lost my reason. It was as if an important part of me – the core of me – had been destroyed. One day my daughter took me by the shoulders and shook me – literally – yelling at me to get back to my writing. She didn't like the person I was becoming.
You've written three books, a series. Tell us about these and the inspiration behind them?
I was listening to Gay Byrne on the radio. It seemed to me people were constantly writing in bemoaning the passing of 'the auld ways'. I realised that I had a storehouse of knowledge of these 'auld days'. I went to the library and second hand book shops and began reading from the mountain of books available about 'the old days' based in London, Liverpool, Manchester and so many more but there were none about Dublin. Right, I thought, this is for me to do. The first book exploded out of me – I have never written in such detail or so quickly.
I grew up being told to sit down and shut up while the adults talked. I listened – not willingly – to stories about the auld days in The Lane. I was born in the Dublin tenements. My parents – like many others – never recovered from their forced removal from inner city Dublin. The main character of my books – Through Streets Broad and Narrow – Ha'penny Chance and The Ha'penny Place is Ivy Rose Murphy a young woman trying to survive in the poverty stricken world of the Dublin Tenements.
I had to find a way for her to make a living. There were very few options for women in the 1920s – the period where I decided to start the story. I remembered a woman from my childhood who begged from the wealthy Dublin households. To my childish eyes she made a fortune. Ivy's 'round' was born. I had all of the information I needed locked in my head. I had to check up on certain facts but otherwise I had everything I wanted inside my own head. I loved telling Ivy's story.
How big is the appetite for historical fiction? Particularly Irish historical fiction?
I literally spent last Sunday walking with an English friend – a woman I'd met through her love of my books – around Dublin. I saw and heard so many people being 'walked' around historical Dublin and wanted to scream at the stilted facts and figures being passed along. Dublin was full of colourful characters. There are so many anecdotes available. I wanted to shout "lighten up" to some of the tour guides. I truly believe people are starving for information about the 'auld days' of Ireland. I believe there is a huge market for factually based fiction about Ireland. Think of all the Oirish people around the world longing to know about their ancestors. Unfortunately for me I appear to be leading the charge. I have had the most wonderful reaction from readers around the world but since I am not "famous" I do not have an instant reader base. There is a vast market out there I just have to reach it!
Tell us about the Romance Novelist's Association and the impact it had on your writing career?
The RNA – what a wonderful bunch of people. I was amazed by their willingness to share their time and experience with someone whose ignorance and questions must have been a pain in the patootie to them. It was the most important group of people in my writing life. It was the New Writer's Scheme (NWS) of the RNA that opened my eyes to my many faults as a writer. Here too I learned about rejection letters – and the fact I'd never received one. The many published authors of the RNA have a vast storehouse of knowledge about the publishing world and they willingly share it with members. I was in the NWS for two years before having my first novel accepted by a publisher. After a quarter century of failure I think that is recommendation enough.
You travelled when you were young. How did this lend itself to your writing?
I'm still travelling. I love waking up not knowing where I am. I'm a terrible tourist. I have no
interest in the tourist route. I want to know about people. I want to see what we do "the same but different".  I love to nose into kitchens and toilets. Talk to the "hidden" people of a region.  I don't know that it has helped me as a writer but it has definitely helped me develop as a person.
What is your writing routine?
Oh Lord, am I supposed to have one? I'm an early riser. I love to watch the sun come up over the ocean. Sometimes if the story is flowing I can't sleep because I can't shut my brain off.  My daughter on one memorable occasion phoned to tell me to "step away from the computer". I can become lost and spend as much as sixteen hours typing. It's a ridiculous way to work but I love it. I can't give you a routine of so many hours. The house could collapse around me and only the poor dog's distress and need for a walk can drag me away from the computer.
How long does it take you to write a book?
The first draft doesn't take very long at all. I write and store a novel in chapters. I find this helps me save something I don't want to use yet.  Polishing the book and making the story flow in a way that readers can follow takes much longer for me than writing the actual book – if that makes sense?
Have you ever suffered from writer's block?
Sorry – No.
What projects are you working on at the moment?
I'm continuing to write about my characters in the Dublin tenements. I have readers from around the world demanding to know the publication date for the latest adventure of my characters. On my recent tour of Dublin with my fan-friend I realized that the bones of my stories are all around Dublin. My friend's reaction when I pointed out places I'd mentioned in my books was amazing to me. She informed me she was going to re-read the books now that she could picture the places in her mind. I plan to take time to photograph the streets and buildings I write about and make a blog tour that follows my character's life. I can't wait to get started.
What do you like to read?
My bedroom has more books than a library. I love the written word and will read just about anything. I love factual books that educate me. I enjoy factually based fiction. It can be of any era but reading a well woven story about the lives and times of people fascinates me. I love a good mystery and science fiction. I love stories with hope and positive energy. I just love books and the worlds created by writers.
Where do you write?
I won't use a laptop. I like to sit up to a computer. I type very fast and break keyboards regularly. My office at the moment is under the stairs. I feel like Harry Potter. I can't read my own handwriting so don't rush around taking notes. I sit at my computer – put my fingers to the keys – and write.
Visit Gemma's website gemmajacksondubliner.com where she regularly blogs and interacts with readers. Find heron Twitter @gemmadubliner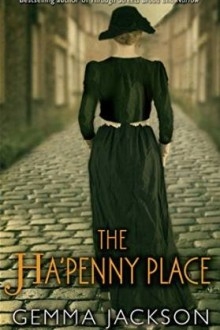 Ha'Penny Place is published by Poolbeg and is available in bookshops and on kindle
LadyNicci comment: What a refreshing interview with Gemma. So full of energy and inspiration. Anyone that can send out material for 25 years and then finally get published and be successful teaches us that as writers we must keep going, no matter what. There were so many parts of this interview where I found myself nodding along. The desire to read factual books and learn about our history. Writing strongly worded letters. The bedroom like a library and poking around people's toilets on holidays. Writing what you know and drawing inspiration from your younger life is a recipe for an authentic and heart felt book. I'm looking forward to working my way through her series and perhaps one day adding another Irish historical fiction book, my own, to the market.
How I write is a blog post series published on Sundays on www.ladynicci.com. The posts aim to give a voice to writers, published, unpublished and everywhere in between, to help and encourage other writers. If you would like to take part email nicola.press@gmail.com with How I Write in the subject line.
December Girl is now available on Audio. Visit Amazon or Audible or click on the cover below to download.